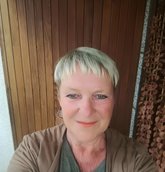 I guess I caught the 'virus' for travelling and enjoying living in other countries/cultures during my freshman year at a highschool in the USA 1973-1974. As soon as I had finished school in Germany in 1978, I left for Paris to study for Make-Up Artist. I ended up living in that beautiful city for almost 9 years! I did go back to Germany just for the time it took to obtain my translator certification.
In 1987 I moved to Amsterdam with a job and I stayed in the Netherlands for the next 22 years.
After having spent a couple of summer vacations with bulgarian friends on the Black Sea coast of Bulgaria I knew it was time for the 'big' move and start a new life here.
And I have not regretted this move one single day!! Beautiful nature, very warm and welcoming people and so much less stressful than life in western Europe!!